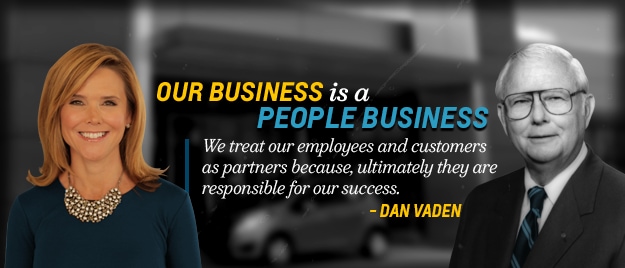 Vaden Automotive started in 1968 with a Chevrolet Dealership surrounded by old dairy farms. Just a handful of employees led by an owner, Dan Vaden, introduced "The Vaden Way" to Savannah, Georgia. Then and now, the company's focus is taking care of people: employees, customers and those in our communities.
Today, now surrounded by a bustling retail area, Dan Vaden Chevrolet is now one of the largest Chevrolet dealerships in coastal Georgia. In the course of its history, Vaden Automotive was one of the first Isuzu dealers in the nation, served as the Volkswagen dealer for Savannah, operated two Oldsmobile franchises and brought General Motors' new Hummer line to town. In recognition of the company's many successes, Mr. Vaden was chosen as one of the top eight new-car dealers in the United States, winning the prestigious Time Magazine Quality Dealer Award in 1992.
Mr. Vaden's youngest daughter, Jane, was just thirteen years old when she first worked for the company as a phone operator. "My dad had an amazing work ethic and love for the business that he expected his family to share," she says. She worked for the company every summer until leaving for college, filing service ROs and doing anything needed at the dealership on a given day.
Many years later, after earning two degrees and establishing successful marketing and public relations career, Jane returned to the family business where she chose to start in Finance. Flourishing in her role, she soon became the F&I director; this move would be followed by experiences as the General Manager of Dan Vaden Chevrolet and Vaden Nissan. In 2008, Jane formally began her current role as President of Vaden Automotive.
During her time at the helm of Vaden Automotive, Jane's own devotion to The Vaden Way has ensured successes as numerous and as impressive as her father's. Jane is one of a few female operators of multiple dealerships in the U.S. She was named the 2014 National F&I Dealers of the Year, and led Vaden Automotive to be chosen as the 2015 AFP Outstanding Philanthropic Corporation of the Year.
Today the company is comprised of 10 dealerships which are concentrated in Savannah, Georgia, the surrounding area and has even expanded to our own community with Vaden Toyota of Sylacauga. Vaden Automotive represents all the General Motors lines, Nissan, Infiniti, Toyota and Isuzu Trucks. Each store is fully equipped to provide quality automotive products and services, and facilities are constantly being upgraded or built to ensure that employees and customers have the best possible environment.
See How We Make the Difference at Vaden Toyota of Sylacauga, Providing Drivers from Sylacauga, Alexander City, Chelsea, Calera, Talladega and Birmingham With a Quality Experience
There are so many ways that we appeal to our customers, and it all starts with offering you a comprehensive dealership experience here at Vaden Toyota of Sylacauga. You get all your bases covered from the moment you walk in, and have us to help you every step of your journey as you own your vehicle.
We provide you with many standout new Toyota models, while you can also find a quality selection of used cars, as well. No matter what, you're going to find something that you want to drive off in. Along with that, we help you find a way to pay for your new or used ride with car loan and Toyota lease options, and work with you the entire time to find the best plan possible.
But, we also provide more than selling or leasing a vehicle to you. All car owners can take advantage of our onsite car service and maintenance department. Our team is highly-trained, and use the latest technology, tools, equipment and Toyota parts when we work on your vehicle, to give you a standout experience, and a long lasting ride that is properly cared for.
Throughout it all, you can count on Vaden Toyota of Sylacauga to give you the experience you desire. If you're interested in taking a closer look at any of the vehicles we have here in our showroom, you can stop in and check them out. We're located at 39765 US Highway 280 Sylacauga, Alabama, and a short drive away from Alexander City, Chelsea, Calera, Talladega and Birmingham, and look forward to seeing you!