Toyota Camry for Sale in Sylacauga, AL
After decades on the road, the Toyota Camry has become a mainstay feature of American driving. It's easy to spot this popular sedan virtually anywhere you go, and drivers have come to count on this car for some very good reasons. The Camry promises a comfortable ride thanks to its smooth performance and roomy cabin. It also offers vigilant safety considerations, modern tech, and more for a refreshingly low price point.
If you'd like to see how the Camry delivers everything you need from your next car, come check it out here at our dealership. Visit us at Toyota of Sylacauga to see this comfortable car inside and out. You're sure to enjoy all it has to offer when you take it for a test drive.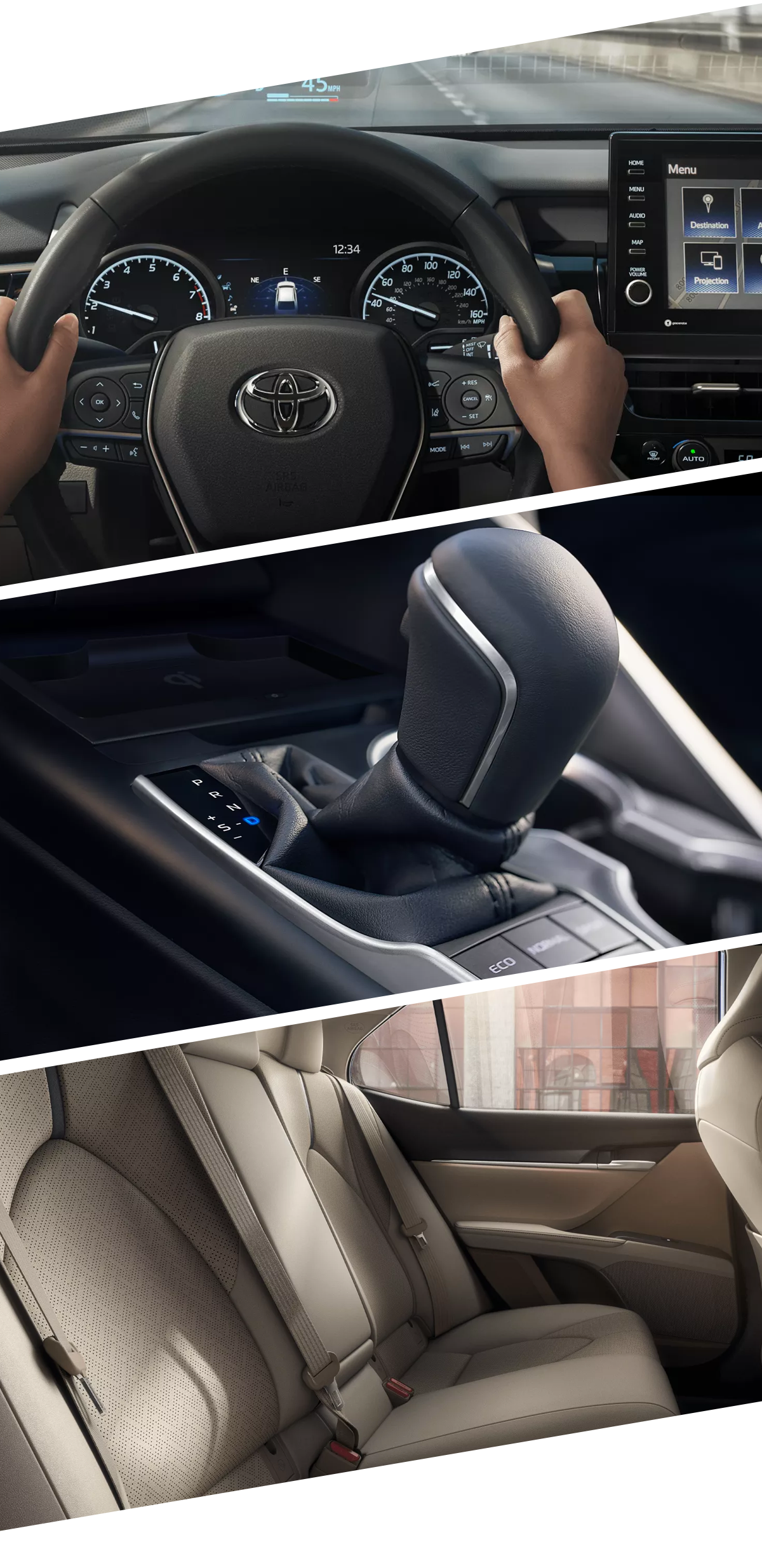 What's New in the 2022 Toyota Camry?
The 2022 Camry comes with all the updates that Toyota has made to the car since its 2018 redesign. This includes the optional 9-inch touchscreen, the addition of smartphone connectivity as standard features, and the enhancement of its powertrains with more powerful yet efficient engine options.
A 4-cylinder engine comes standard in the Camry, delivering over 200 horsepower in any model you choose. Toyota also offers a 301-horsepower V6 for even more muscle. Both powertrain options deliver plenty of power on the road, with respectable gas mileage in town and on the highway. The Camry also handles with ease for a consistently smooth ride.
On the inside, the Camry seats up to five people with considerable legroom. The seats are soft and cushioned, and the interior furnishings are easy on the eyes and soft to the touch. You can also opt for upper trims like the Camry XLE for interior upgrades like leather upholstery and heated front seats. When you need to carry cargo, the Camry accommodates with 15.1 cubic feet of trunk space.
The 2022 model comes standard with a 7-inch touchscreen, while a larger option is now available as well. handy features like satellite radio also come standard, while available features include wireless device charging and navigation. The Camry touts a long list of standard safety tools, including lane departure warning, pedestrian detection, traffic sign recognition, and automatic emergency braking.
History of the Toyota Camry
Toyota brought the Camry to the U.S. in the early 1980s, offering the car in sedan and hatchback body styles. Although the Camry models produced today are categorized as midsize sedans, the original Camrys were discernibly smaller, more fitting to the compact car segment. Toyota expanded the car's frame in 1992 as a part of that year's full redesign. The update also introduced a coupe variation to that generation. With its expanded appeal, the Camry became one of the fastest-selling vehicles in the U.S. by the early 2000s. The car underwent another redesign in 2018, and Toyota never ceases to improve upon their popular car with new tech and other updates.
Find a Deal on the Camry at Toyota of Sylacauga
Whenever you're ready to get in the driver's seat, you're invited to come find just what you need at our dealership. We have the reliable Camry and more here at Toyota of Sylacauga, and you can explore our entire new Toyota selection to see all your options. Don't forget to take a look at our monthly deals as well to save big!